110" TIMBER - HANGER 9 -

ASSEMBLY/BUILD THREAD
​

Horizon Hobby Product Link:
Here
​
110" Timber Manual:

Here




AKNick Completed Timber!!

From the Website:
​
Key Features ​
High quality balsa and plywood construction provides a strong and lightweight airframe

Vibrant and eye-catching UltraCote covering for a high-quality finish and good looks

Functional flaps expand the flight envelope and make for STOL take offs and landings

Multiple hatches allows plenty of opening space for assembly and battery change

Large 7" tundra-style tires included

Optional-use leading edge devices allows for even shorter take offs and landings (included)

Pre-hinged control surfaces (except rudder) help you save on build time

Two-piece plug-in wings with carbon fiber wing tube allows for easy transportation and storage

Removable horizontal stabilizer for easy field assembly

Accepts Hangar 9 CubCrafters XCub 60cc articulated landing gear (sold separately)

Tool-free field assembly

Painted fiberglass cowl requires no finishing by the customer

Painted aluminum landing gear matches the covering perfectly

Designed to accept gas/petrol engines and electric motors

Float ready, with hard points for optional float set

Complete hardware kit with engine and motor mounting hardware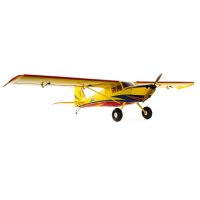 ​
Enough said! Lets do a FUN, All INCLUSIVE, GSN style build thread!!!​
Last edited: